You have come to the right place if you're looking to check out my readers' book reviews. It is always an honor to hit the fan sweet spot with the plot, characters and the story line.
See what they've got to say and if you haven't picked up your copy, hop on over to Amazon.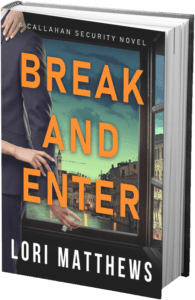 BREAK AND ENTER
JB Schroeder (Bookbub)
Author: Uncovered
Romantic Suspense/Contemporary Romance
Lori Matthew's debut romantic suspense about a sexy, determined thief and an under-pressure ex-military security specialist is a fun, fast-paced read full of intrigue and action! A perfect enemies-to-lovers set-up shifts into a yummy bodyguard / reluctant protectee story when the only way out is working together!
Book Recommendation: Break and Enter by Syllables Of Swathi
This is the first book in the series featuring Mitch Callahan and what a delicious treat it was discovering them! I love starting a brand new series and this one was YUM! I can't begin to express my love for Alex yet. She is fierce, brilliant and resourceful with a killer bod. She is a total package. And what does she do for a living? She displaces 'assets' and makes sure it is safe with their rightful owner. Does this involve a lot of breaking and entering that some might call 'stealing'? Well yeah…but who cares? She only does it because her clients are ladies who are wronged by cunning, egoistic men who treat women like trash. Alex plans her every move, every single step and her exit plans are always on point so that she walks out of the place unnoticed with the asset in hand. One thing she hasn't planned is stumbling upon the handsome hulk Mitch Callahan whose looks and brain turns out to be a perfect match for hers. Unfortunately they are on opposite sides! What a killer combo they'd make.
Lori Matthews writes a brilliant premise with each chapters ending with a cliffhanger which is a perfect mix of suspense and spice.
Click HERE to read the rest of the review.
Reader Reviews Book Reviews
Break and Enter
Kicking off in Italy and quickly moving to the Hamptons the scenery is almost as captivating as the story within. Author, Lori Matthews creates an exquisite narrative as she flips between Mitch and Alex's point-of-views as they both vie for success in their endeavors.
Matthews nailed it in this series kick off! The romance was steamy, the action was jaw dropping and the characters all provided an edge that kept the pages turning. As a longtime fan of Jason Bourne, "Break and Enter" hit all the right notes and gave readers an independently strong and wealthy female lead. However, this book should not just be limited to fans of action and thrills, the several romantic scenes within are enough to make the most weathered romance reader blush. This book packs so much punch within its storyline, readers will be running for the next in the Callahan Security series.
Full Review HERE
One Book More
Review: Break and Enter
The chemistry is super hot!
This is a steamy romantic thriller that I enjoyed reading. The plot is fast-paced and action-packed, and the characters are interesting and likable. I like the unexpected twists and surprises in the novel. From unexpected moles and betrayals to explosions and attempted murder, this story will keep you on the edge of your seat.
Readers who enjoy sexy romance will love this book. Also, readers who enjoy romantic suspense with a bold and intelligent woman and a hunky alpha male will enjoy this read.
Read the FULL review HERE
Couldn't Put it Down (Amazon)
by PJ Ausdenmore
When a debut novel, which also launches a series, keeps me reading until 3:30 AM, I know I've found an author whose future books I'll be anticipating with eagerness and pre-ordering as soon as they're available. Matthews writes with fluidity, painting vivid pictures with her words and using her characters – always at the heart of the story – to move the plot forward. As I read the words on the page, in my mind's eye I could see the entire story unfolding on the big screen. It's as if I was reading the book and watching the movie simultaneously, creating an immersive experience that fully engaged my senses.
With well-developed characters, a fast-paced and tightly-plotted story, a solid balance between action and romance, and twists and turns aplenty, she drew me into her high-stakes world and kept me riveted from first page to last. I loved the chemistry between Mitch and Alex, the flare of desire that grew ever stronger, even as they matched wits to achieve their respective goals and struggled to find trust without revealing their secrets. I was fully invested in them and their journey.
SMASH AND GRAB
The Sassy Redhead's Review
sassyredheadbookreviews.wordpress.com

I really enjoyed this story. Its action packed, suspenseful, intriguing and off the charts steam between these two. The secrets that come out and the twists and turns of the story made the pages burn and tugged me in for the ride. The characters are interesting and fun to read and they have their own style which draws out the person deep inside when they work together.
PJ Ausdenmore's Review
Romance Blogger
TheRomanceDish.com
(Goodreads)
This is only the second novel Lori Matthews has published but she is fast becoming one of my go-to romantic suspense authors. Filled with suspense, romance, and plenty of danger, Smash and Grab continues the mystery begun in book one, Break and Enter, while adding a new twist into the mix. The chemistry between Lacy and Logan sizzles and it was fun to watch the two former legal adversaries begin to view one another in a new light as they're forced to work together. We discover that both characters are much more than expected. The guy we met in book one is not at all the person I expected him to be in book two. I loved his hidden depths! Lacy, on the other hand, is a well of secrets and contradictions with family complications – and expectations – that have been steering her toward an inescapable destination. Understandably, as truths are revealed, trust is tested and Matthews inserts enough twists and turns into the story to keep me (and Logan) wondering right up until the end just how everything will turn out. It's a wild ride and oh, so worth it.
I can't wait to find out what Matthews has in store for us in the next Callahan Security novel!
Perrin L. Review (Goodreads)
The second book in this series is as breathtaking as the first! I loved this book.
Threats, imprisonment, car chases, kidnapping, shoot outs, murder, with parental love, romance, and some very steamy scenes, then on to suspense and international intrigue. Yes, I really loved this book! Fast paced and difficult to put down, I read this in one afternoon.
Ms. Matthews is a new author, and her first book, Break and Enter, was also fabulous. You don't absolutely have to read Break and Enter before Smash and Grab, but they're both fabulous and I think you'd understand the dynamics of the relationships better if you do read them in order. I can't wait for the next book in this series and look forward to following Ms. Matthews career.
Lauren's Review (Goodreads)
This story continues where the first one left off and since I read both, I had plenty of background on the characters. In fact, there was an intro to this book at the end of the last one, so I was anxious to read this one. The book starts with a bang and keeps going with plenty of action, suspense and intrigue.
The story keeps you on the edge of your seat as the relationship between Lacy and Logan grows, even though they each have their secrets. They seem to have chemistry, that is beyond just physical attraction as they delve into each other's interests and dreams for the future. Both are great and interesting characters as they go through this adventure and try to figure out who to trust including each other.
Kristen L Review (Amazon)
Like the book before it, this one sucked me into the action and adventure from the opening words. It carries forward the sexual tension and dramatic sparks Logan and Lacy were striking from one another that were so very evident the first time we saw them in a room together. Logan's still looking for answers to their last assignment and Lacy adds more than one new complication to his life. I recently ran across a phrase that I think fits this book: the mating call of two bad a$$es. (Thank-you R.J. Gray in Finding Teagan for this iconic phrase.) Lacy and Logan have had to armor themselves in order to deal with what they do day in and day out. But the pair have poet's souls that cry out to one another, and I adored watching them chip away at those walls to connect. Once again, I'm nowhere close to being ready to let these characters go. My one-click finger's itching for the next book.
Reading in Morgan Hill (Amazon)
The second book in this series is as breathtaking as the first! I loved this book.
Threats, imprisonment, car chases, kidnapping, shoot outs, murder, with parental love, romance, and some very steamy scenes, then on to suspense and international intrigue. Yes, I really loved this book! Fast paced and difficult to put down, I read this in one afternoon.
Continuing the saga of Callahan Security, this is Lacy and Logan's story. Lacy was introduced to Logan in the first book of the series, since she is Alex's best friend. The story line of the first book is briefly discussed, and it is the reason Logan has gone to the Bahamas. He needs to know what Lacy knows about the technology that Callahan Security is guarding. Her secrets are buried much more deeply and might get them killed. Is it because of the new technology or who Lacy truly is?
Ms. Matthews is a new author, and her first book, Break and Enter, was also fabulous. You don't absolutely have to read Break and Enter before Smash and Grab, but they're both fabulous and I think you'd understand the dynamics of the relationships better if you do read them in order. I can't wait for the next book in this series and look forward to following Ms. Matthews career.
HIT AND RUN
Midwest Book Review
www.midwestbookreview.com
A riveting novel that, from first page to last, "Hit And Run" by author Lori Matthews showcases her impressively genuine flair for originality, narrative storytelling style, and deftly crafted and thoroughly entertaining plot twists and turns. While certain to be a welcome and unreservedly recommended addition to community library Contemporary General Fiction collections.

Jill R. (Reader Views)
"Hit and Run" continues to star the swoon-worthy Callahan brothers, with this third book shining the spotlight on the final sibling, Gage Callahan. Almost as irresistible as the Callahan men, are the sights author Lori Matthews sets them against in this series finale.Click HERE to read the rest of the review.
Sally B. (Goodreads)
Fast-paced action, keeps you on the edge of your seat: I enjoyed catching up with the Callahan brothers and the culmination of the series. These books definitely need to be read in order and I wished the author had of provided a few more hints at the beginning of this one to remind us what had transpired previously. I liked that there was an emotional depth to the story and whilst there were some light-hearted and fun moments (largely thanks to the grannies), there were also some sad and more intense times too. I loved all of the mystery and suspense, yet the romance was great too. These brothers all seem to have a soft spot for "bad" girls! Gage and Dani initially clash yet walls start to come down the more time they spend together.
Debbie B. (Netgalley)
I am loving this series! This is the third book in this series but can be read as a standalone! This book has everything! It had intrigue, drama, suspense and action packed! It has some steam to it too! I definitely recommend reading this book and series! Thank you NetGalley and the publishers for sharing this book with me!
Shannon B. (Bookstagrammer)
I do love me an enemies-to-lovers "ohh nooo there's only one bed so I guess we'll have to share 😒😏" trope. I liked the main characters in this story; Gage was wonderfully grumbly and Dani was a spitfire and I can DEFINITELY relate to a heroine who gets hangry. This was a pleasant and well-paced military-romance/romantic suspense novel that will keep you turning the pages without wearing out your brain trying to figure out what happens next. The side characters (especially Dottie & Co.!) add enough humor and levity to keep the story from getting too dark or serious.
Cynthia Anderson (Netgalley)
Rating: 4 out of 5 stars
"Hit and Run" by Lori Matthews is a well-written mystery/romance book. The heroine and hero are equally matched, and you feel a kinship with the heroine and her reasons for being in the situation she is in. As a reader, I found myself cheering Daniella on with her mission, and feeling her fears, pain and misery. I would recommend this book to other adult readers. The plot was well-planned and kept the reader reading.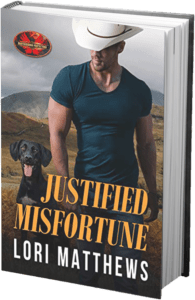 JUSTIFIED MISFORTUNE
Kristen L. (Amazon)
Now, I'm a sucker for a second chance, and the fact that this theme is at the heart of this book made me instantly warm to it. But add to that, the Brotherhood Protectors World and a tie-in to the author's Callahan Security series, and there was no way I could resist. The chemistry between Sunny and Hudson is compelling to watch. I was so glad to see them air out their past grievances and hurts. This is a book that felt like it went by in the blink of an eye. It pulled me into the mystery, the story, and the whole thing went by in blur of action, suspense, and misdirection. At no point in the story was I able to outthink the plot. All the necessary clues were there, but I was successfully distracted by everything else that was going on and never managed to put them together before the book was over. Before I even started reading this, I was already a fan of the author's work. Now I can't wait to see what she gives us next.
Deb from Oz (Bookbub)
I love Lori's work and her Callahan Security world is one of my favourites series then throw in that this book is set in the Brotherhood Protectors world and it was a no brainer I had to read and I was so glad that I did This is a wonderful story of second chance love and how a town can turn against it's own There is plenty of angst and drama and a whole lot of suspense to keep you turning the pages like all of Lori's books
Tracey FM (Amazon)
Enthralling who-done-it! With the whole town of Canyon Springs against her, believing she murdered Wayne Bradley. Sunny was back in town only because of her ailing grandmother. Sunny is just trying to lay low because she's out on bail. But what's she going to do to clear her name before the trial and jail time. Enter Hudson Riggs! Hudson and Sunny had a relationship a long time ago, until Hudson just up and left, no real explanation! But now Hudson has been hired by Sunny's lawyer to stick close by her, since there have been death threats against her! Exciting and anxiety inducing!
Mari Loves Books Blog (Bookbub)
An amazing second chance romance with danger, suspense, mystery and amazing chemistry. I couldn't stop reading and this is my first time reading this author. Sunny and Hudson had a lot of hurt to get through but being in danger helps them see that they can still trust each other. What a great story!
Razee (Amazon)
Sunny Travers had a very successful job until she went home to take care of her grandmother. Now she is blamed for a murder and citizens of Canyon Springs have turned against her even those who she thought were her friends. Hudson Riggs has returned home to take care of his mother's ranch while she is away. He was formerly a Navy SEAL and now in in security. Sunny was his former flame so he has offered her lawyer to protect her and help find who is the real murderer. There is suspense as someone first tried scare tactics and has now escalated to attempted murder. See if you can figure who the murderer is and why.
JUSTIFIED BURDEN
Angela F. (Amazon)
From the moment their eyes met, there's a passion full of undeniable urgency. But also a mystery surrounding that is potentially deadly.
Romance comes to an abrupt halt before it barely begins. But it's not just the break-in, the dead body, or a tragedy that tore Scarlett's heart…Rhys's plans didn't involve staying in Canyon Springs.
Is there hope for love?
A romance that will tug at your heartstrings, and a suspense that will keep you hunting down the killer.
Words have power, and Ms. Matthews has chosen just the right ones to paint the picture of romantic suspense. There is beauty in her craft, that even in danger, she creates strokes of love.
Romance..suspense..cowboy..puppy..Can Christmas get any better?
Kristen L (Amazon)
This story picks up close on the heels of the events from Justified Misfortune. You don't have to have read that book first, but it helps with the understanding of some of the dynamics in this one. From the moment this story starts, I was hooked. It was easy to understand Scarlett's confusion and fear. And the klutz in me could totally sympathize with the pain of her tailbone injuries. Rhys intrigued me in the previous book, and I was really hoping to see him get one of his own. This book does justice to the strong, yet slightly grouchy, alpha protector I had started to fall in love with. Their chemistry is powerful, yet also quite sweet. I loved that the romance between them was a bit of a slower burn. And I adore that the mystery kept me guessing all the way to the big reveal. I have no idea what the author plans to offer us next, but I know that I can't wait to read it.
EVADE AND CAPTURE
PJ Ausdenmore
Fast-Paced, Breath-Stealing Romantic Suspense
If you're a fan of this series, you know Jameson Drake has never stopped searching for his sister. It's been the driving force in his life for the past sixteen years and a common, secondary thread through the first three books of this series. I was hopeful for a positive resolution to his search but, come on, it's been sixteen years, right? I couldn't figure out how Matthews was going to bring Kathleen back into his life and keep it realistic or how she would manage to pull off a happy ending for everyone once we got into the heart of the story but that's exactly what she accomplished…while keeping me on the edge of my seat, trying to figure out what would happen next, and flipping pages for all I was worth from beginning to end. She's become one of my favorite romantic suspense authors, an auto-buy for each new book she publishes.
If you enjoy fast-paced romantic suspense with intriguing characters, snappy dialogue, sizzling romance, breath-stealing danger, unexpected twists and turns, and a guaranteed happily-ever-after, at least for the good guys, give Lori Matthews' Evade and Capture a try. I highly recommend it.
*Evade and Capture is the fourth book in the Callahan Security series. While heroes from previous books are instrumental in this story and Drake's search for his sister is introduced early on in the series, his own story really doesn't take off until the beginning of this book. Evade and Capture can absolutely be enjoyed as a standalone.
Paytonpuppy
Outstanding Romantic Suspense!
A thrilling romantic suspense as Spencer Gordon risks everything to save the lives of Kathleen Drake and her son Connor. Spencer realizes that she needs further support to protect them and decides to kidnap Kathleen's brother Jameson. Jameson Drake is immensely wealthy and should be able to provide the funds and security to help protect his sister. Jameson has been under the protection of Callahan Security for years and they are known for keeping their most prominent clients safe. Although many believed that Kathleen had died sixteen years ago, Jameson continued to search for her…he felt deep in his heart that she was still alive. Can he and Spencer, with the help of the Callahan team, finally ensure that the threats to Kathleen are terminated? A wild ride that will keep you turning the pages to find out what happens next. I love a strong heroine that can match wits and bravery with the alpha male and Spencer is that heroine.
Linda J. Olinger
Love On The Run
I received an ARC of this book in exchange for a honest review. I am so glad I signed up for this ARC even though it's not my usual choice. The book was masterfully written with strong, believable characters that you cheered on to success!
Jameson Drake's sister (Jamie to his sister) disappeared when he was in college. The police surmised she committed suicide but he never believed that story. Instead he has spent the past sixteen years searching for her. First she's spotted in one of his hotels. Then a woman claims to know where she is and offers to take him to her. Despite his doubts he feels compelled to meet her and eventually agrees to accompany her.
The more he finds out about why his sister disappeared, the more dangerous the reason becomes.
I loved this book and highly recommend it! In fact, I am going to download the first three books of the Callahan Security Series by Lori Matthews! And, of course, there is a love story thrown in to sweeten the pot!
Judi Abbott
The Deal of a Lifetime
Lori Matthew's knows how to write a story to keep you guessing and invested. Evade and capture is such a story. This is the 4th book of the Callaghan Security series but can be read as a standalone. I haven't read the other books in the series but I will now! I do not want to give any spoilers so this review is hard to write. Drake has it all, except the sister he's been looking for for the past 16years. Spencer is FBI and hates her job. Spencer has a secret she needs to share with Drake so she kidnaps him. At this point the story takes off and doesn't slow down until the end. This is a great romantic suspense story.

Cindy H
A Thrill Ride!
Exciting! Omg, this book had me glued to the pages. Excitement and danger on this roller coaster ride! Drake was super powerful, his bodyguards amazing and Spencer was a devoted friend and protector of Kathleen and Connor. Another words perfect for each other if they can keep everyone alive to have a future free of the mob. Reading from this author's next book is a must for me!
Alyson L
This is an award winning formula!
What an outstanding book! Lori Matthew's Evade and Capture is filled with snappy dialogue, unexpected twists and turns, edge of your seat danger, breath stealing romance and fast-paced romantic suspense. Plan on a guaranteed happily-ever-after and you have an award winning formula. I highly recommend it.