You have come to the right place if you're looking to check out my readers' book reviews. It is always an honor to hit the fan sweet spot with the plot, characters and the story line.
See what they've got to say and if you haven't picked up your copy, hop on over to Amazon.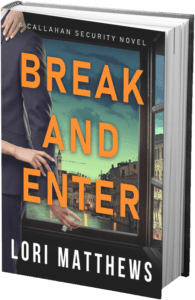 BREAK AND ENTER
JB Schroeder (Bookbub)
Author: Uncovered
Romantic Suspense/Contemporary Romance
Lori Matthew's debut romantic suspense about a sexy, determined thief and an under-pressure ex-military security specialist is a fun, fast-paced read full of intrigue and action! A perfect enemies-to-lovers set-up shifts into a yummy bodyguard / reluctant protectee story when the only way out is working together!
Book Recommendation: Break and Enter by Syllables Of Swathi
This is the first book in the series featuring Mitch Callahan and what a delicious treat it was discovering them! I love starting a brand new series and this one was YUM! I can't begin to express my love for Alex yet. She is fierce, brilliant and resourceful with a killer bod. She is a total package. And what does she do for a living? She displaces 'assets' and makes sure it is safe with their rightful owner. Does this involve a lot of breaking and entering that some might call 'stealing'? Well yeah…but who cares? She only does it because her clients are ladies who are wronged by cunning, egoistic men who treat women like trash. Alex plans her every move, every single step and her exit plans are always on point so that she walks out of the place unnoticed with the asset in hand. One thing she hasn't planned is stumbling upon the handsome hulk Mitch Callahan whose looks and brain turns out to be a perfect match for hers. Unfortunately they are on opposite sides! What a killer combo they'd make.
Lori Matthews writes a brilliant premise with each chapters ending with a cliffhanger which is a perfect mix of suspense and spice.
Click HERE to read the rest of the review.
Reader Reviews Book Reviews
Break and Enter
Kicking off in Italy and quickly moving to the Hamptons the scenery is almost as captivating as the story within. Author, Lori Matthews creates an exquisite narrative as she flips between Mitch and Alex's point-of-views as they both vie for success in their endeavors.
Matthews nailed it in this series kick off! The romance was steamy, the action was jaw dropping and the characters all provided an edge that kept the pages turning. As a longtime fan of Jason Bourne, "Break and Enter" hit all the right notes and gave readers an independently strong and wealthy female lead. However, this book should not just be limited to fans of action and thrills, the several romantic scenes within are enough to make the most weathered romance reader blush. This book packs so much punch within its storyline, readers will be running for the next in the Callahan Security series.
Full Review HERE
One Book More
Review: Break and Enter
The chemistry is super hot!
This is a steamy romantic thriller that I enjoyed reading. The plot is fast-paced and action-packed, and the characters are interesting and likable. I like the unexpected twists and surprises in the novel. From unexpected moles and betrayals to explosions and attempted murder, this story will keep you on the edge of your seat.
Readers who enjoy sexy romance will love this book. Also, readers who enjoy romantic suspense with a bold and intelligent woman and a hunky alpha male will enjoy this read.
Read the FULL review HERE
Couldn't Put it Down (Amazon)
by PJ Ausdenmore
When a debut novel, which also launches a series, keeps me reading until 3:30 AM, I know I've found an author whose future books I'll be anticipating with eagerness and pre-ordering as soon as they're available. Matthews writes with fluidity, painting vivid pictures with her words and using her characters – always at the heart of the story – to move the plot forward. As I read the words on the page, in my mind's eye I could see the entire story unfolding on the big screen. It's as if I was reading the book and watching the movie simultaneously, creating an immersive experience that fully engaged my senses.
With well-developed characters, a fast-paced and tightly-plotted story, a solid balance between action and romance, and twists and turns aplenty, she drew me into her high-stakes world and kept me riveted from first page to last. I loved the chemistry between Mitch and Alex, the flare of desire that grew ever stronger, even as they matched wits to achieve their respective goals and struggled to find trust without revealing their secrets. I was fully invested in them and their journey.
SMASH AND GRAB
The Sassy Redhead's Review
sassyredheadbookreviews.wordpress.com

I really enjoyed this story. Its action packed, suspenseful, intriguing and off the charts steam between these two. The secrets that come out and the twists and turns of the story made the pages burn and tugged me in for the ride. The characters are interesting and fun to read and they have their own style which draws out the person deep inside when they work together.
PJ Ausdenmore's Review
Romance Blogger
TheRomanceDish.com
(Goodreads)
This is only the second novel Lori Matthews has published but she is fast becoming one of my go-to romantic suspense authors. Filled with suspense, romance, and plenty of danger, Smash and Grab continues the mystery begun in book one, Break and Enter, while adding a new twist into the mix. The chemistry between Lacy and Logan sizzles and it was fun to watch the two former legal adversaries begin to view one another in a new light as they're forced to work together. We discover that both characters are much more than expected. The guy we met in book one is not at all the person I expected him to be in book two. I loved his hidden depths! Lacy, on the other hand, is a well of secrets and contradictions with family complications – and expectations – that have been steering her toward an inescapable destination. Understandably, as truths are revealed, trust is tested and Matthews inserts enough twists and turns into the story to keep me (and Logan) wondering right up until the end just how everything will turn out. It's a wild ride and oh, so worth it.
I can't wait to find out what Matthews has in store for us in the next Callahan Security novel!
Perrin L. Review (Goodreads)
The second book in this series is as breathtaking as the first! I loved this book.
Threats, imprisonment, car chases, kidnapping, shoot outs, murder, with parental love, romance, and some very steamy scenes, then on to suspense and international intrigue. Yes, I really loved this book! Fast paced and difficult to put down, I read this in one afternoon.
Ms. Matthews is a new author, and her first book, Break and Enter, was also fabulous. You don't absolutely have to read Break and Enter before Smash and Grab, but they're both fabulous and I think you'd understand the dynamics of the relationships better if you do read them in order. I can't wait for the next book in this series and look forward to following Ms. Matthews career.
Lauren's Review (Goodreads)
This story continues where the first one left off and since I read both, I had plenty of background on the characters. In fact, there was an intro to this book at the end of the last one, so I was anxious to read this one. The book starts with a bang and keeps going with plenty of action, suspense and intrigue.
The story keeps you on the edge of your seat as the relationship between Lacy and Logan grows, even though they each have their secrets. They seem to have chemistry, that is beyond just physical attraction as they delve into each other's interests and dreams for the future. Both are great and interesting characters as they go through this adventure and try to figure out who to trust including each other.
Kristen L Review (Amazon)
Like the book before it, this one sucked me into the action and adventure from the opening words. It carries forward the sexual tension and dramatic sparks Logan and Lacy were striking from one another that were so very evident the first time we saw them in a room together. Logan's still looking for answers to their last assignment and Lacy adds more than one new complication to his life. I recently ran across a phrase that I think fits this book: the mating call of two bad a$$es. (Thank-you R.J. Gray in Finding Teagan for this iconic phrase.) Lacy and Logan have had to armor themselves in order to deal with what they do day in and day out. But the pair have poet's souls that cry out to one another, and I adored watching them chip away at those walls to connect. Once again, I'm nowhere close to being ready to let these characters go. My one-click finger's itching for the next book.
Reading in Morgan Hill (Amazon)
The second book in this series is as breathtaking as the first! I loved this book.
Threats, imprisonment, car chases, kidnapping, shoot outs, murder, with parental love, romance, and some very steamy scenes, then on to suspense and international intrigue. Yes, I really loved this book! Fast paced and difficult to put down, I read this in one afternoon.
Continuing the saga of Callahan Security, this is Lacy and Logan's story. Lacy was introduced to Logan in the first book of the series, since she is Alex's best friend. The story line of the first book is briefly discussed, and it is the reason Logan has gone to the Bahamas. He needs to know what Lacy knows about the technology that Callahan Security is guarding. Her secrets are buried much more deeply and might get them killed. Is it because of the new technology or who Lacy truly is?
Ms. Matthews is a new author, and her first book, Break and Enter, was also fabulous. You don't absolutely have to read Break and Enter before Smash and Grab, but they're both fabulous and I think you'd understand the dynamics of the relationships better if you do read them in order. I can't wait for the next book in this series and look forward to following Ms. Matthews career.
HIT AND RUN
Midwest Book Review
www.midwestbookreview.com
A riveting novel that, from first page to last, "Hit And Run" by author Lori Matthews showcases her impressively genuine flair for originality, narrative storytelling style, and deftly crafted and thoroughly entertaining plot twists and turns. While certain to be a welcome and unreservedly recommended addition to community library Contemporary General Fiction collections.

Jill R. (Reader Views)
"Hit and Run" continues to star the swoon-worthy Callahan brothers, with this third book shining the spotlight on the final sibling, Gage Callahan. Almost as irresistible as the Callahan men, are the sights author Lori Matthews sets them against in this series finale.Click HERE to read the rest of the review.
Sally B. (Goodreads)
Fast-paced action, keeps you on the edge of your seat: I enjoyed catching up with the Callahan brothers and the culmination of the series. These books definitely need to be read in order and I wished the author had of provided a few more hints at the beginning of this one to remind us what had transpired previously. I liked that there was an emotional depth to the story and whilst there were some light-hearted and fun moments (largely thanks to the grannies), there were also some sad and more intense times too. I loved all of the mystery and suspense, yet the romance was great too. These brothers all seem to have a soft spot for "bad" girls! Gage and Dani initially clash yet walls start to come down the more time they spend together.
Debbie B. (Netgalley)
I am loving this series! This is the third book in this series but can be read as a standalone! This book has everything! It had intrigue, drama, suspense and action packed! It has some steam to it too! I definitely recommend reading this book and series! Thank you NetGalley and the publishers for sharing this book with me!
Shannon B. (Bookstagrammer)
I do love me an enemies-to-lovers "ohh nooo there's only one bed so I guess we'll have to share 😒😏" trope. I liked the main characters in this story; Gage was wonderfully grumbly and Dani was a spitfire and I can DEFINITELY relate to a heroine who gets hangry. This was a pleasant and well-paced military-romance/romantic suspense novel that will keep you turning the pages without wearing out your brain trying to figure out what happens next. The side characters (especially Dottie & Co.!) add enough humor and levity to keep the story from getting too dark or serious.
Cynthia Anderson (Netgalley)
Rating: 4 out of 5 stars
"Hit and Run" by Lori Matthews is a well-written mystery/romance book. The heroine and hero are equally matched, and you feel a kinship with the heroine and her reasons for being in the situation she is in. As a reader, I found myself cheering Daniella on with her mission, and feeling her fears, pain and misery. I would recommend this book to other adult readers. The plot was well-planned and kept the reader reading.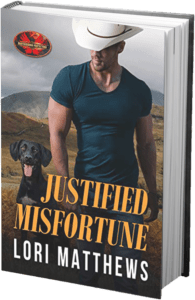 JUSTIFIED MISFORTUNE
Kristen L. (Amazon)
Now, I'm a sucker for a second chance, and the fact that this theme is at the heart of this book made me instantly warm to it. But add to that, the Brotherhood Protectors World and a tie-in to the author's Callahan Security series, and there was no way I could resist. The chemistry between Sunny and Hudson is compelling to watch. I was so glad to see them air out their past grievances and hurts. This is a book that felt like it went by in the blink of an eye. It pulled me into the mystery, the story, and the whole thing went by in blur of action, suspense, and misdirection. At no point in the story was I able to outthink the plot. All the necessary clues were there, but I was successfully distracted by everything else that was going on and never managed to put them together before the book was over. Before I even started reading this, I was already a fan of the author's work. Now I can't wait to see what she gives us next.
Deb from Oz (Bookbub)
I love Lori's work and her Callahan Security world is one of my favourites series then throw in that this book is set in the Brotherhood Protectors world and it was a no brainer I had to read and I was so glad that I did This is a wonderful story of second chance love and how a town can turn against it's own There is plenty of angst and drama and a whole lot of suspense to keep you turning the pages like all of Lori's books
Tracey FM (Amazon)
Enthralling who-done-it! With the whole town of Canyon Springs against her, believing she murdered Wayne Bradley. Sunny was back in town only because of her ailing grandmother. Sunny is just trying to lay low because she's out on bail. But what's she going to do to clear her name before the trial and jail time. Enter Hudson Riggs! Hudson and Sunny had a relationship a long time ago, until Hudson just up and left, no real explanation! But now Hudson has been hired by Sunny's lawyer to stick close by her, since there have been death threats against her! Exciting and anxiety inducing!
Mari Loves Books Blog (Bookbub)
An amazing second chance romance with danger, suspense, mystery and amazing chemistry. I couldn't stop reading and this is my first time reading this author. Sunny and Hudson had a lot of hurt to get through but being in danger helps them see that they can still trust each other. What a great story!
Razee (Amazon)
Sunny Travers had a very successful job until she went home to take care of her grandmother. Now she is blamed for a murder and citizens of Canyon Springs have turned against her even those who she thought were her friends. Hudson Riggs has returned home to take care of his mother's ranch while she is away. He was formerly a Navy SEAL and now in in security. Sunny was his former flame so he has offered her lawyer to protect her and help find who is the real murderer. There is suspense as someone first tried scare tactics and has now escalated to attempted murder. See if you can figure who the murderer is and why.
JUSTIFIED BURDEN
Angela F. (Amazon)
From the moment their eyes met, there's a passion full of undeniable urgency. But also a mystery surrounding that is potentially deadly.
Romance comes to an abrupt halt before it barely begins. But it's not just the break-in, the dead body, or a tragedy that tore Scarlett's heart…Rhys's plans didn't involve staying in Canyon Springs.
Is there hope for love?
A romance that will tug at your heartstrings, and a suspense that will keep you hunting down the killer.
Words have power, and Ms. Matthews has chosen just the right ones to paint the picture of romantic suspense. There is beauty in her craft, that even in danger, she creates strokes of love.
Romance..suspense..cowboy..puppy..Can Christmas get any better?
Kristen L (Amazon)
This story picks up close on the heels of the events from Justified Misfortune. You don't have to have read that book first, but it helps with the understanding of some of the dynamics in this one. From the moment this story starts, I was hooked. It was easy to understand Scarlett's confusion and fear. And the klutz in me could totally sympathize with the pain of her tailbone injuries. Rhys intrigued me in the previous book, and I was really hoping to see him get one of his own. This book does justice to the strong, yet slightly grouchy, alpha protector I had started to fall in love with. Their chemistry is powerful, yet also quite sweet. I loved that the romance between them was a bit of a slower burn. And I adore that the mystery kept me guessing all the way to the big reveal. I have no idea what the author plans to offer us next, but I know that I can't wait to read it.
EVADE AND CAPTURE
PJ Ausdenmore
Fast-Paced, Breath-Stealing Romantic Suspense
If you're a fan of this series, you know Jameson Drake has never stopped searching for his sister. It's been the driving force in his life for the past sixteen years and a common, secondary thread through the first three books of this series. I was hopeful for a positive resolution to his search but, come on, it's been sixteen years, right? I couldn't figure out how Matthews was going to bring Kathleen back into his life and keep it realistic or how she would manage to pull off a happy ending for everyone once we got into the heart of the story but that's exactly what she accomplished…while keeping me on the edge of my seat, trying to figure out what would happen next, and flipping pages for all I was worth from beginning to end. She's become one of my favorite romantic suspense authors, an auto-buy for each new book she publishes.
If you enjoy fast-paced romantic suspense with intriguing characters, snappy dialogue, sizzling romance, breath-stealing danger, unexpected twists and turns, and a guaranteed happily-ever-after, at least for the good guys, give Lori Matthews' Evade and Capture a try. I highly recommend it.
*Evade and Capture is the fourth book in the Callahan Security series. While heroes from previous books are instrumental in this story and Drake's search for his sister is introduced early on in the series, his own story really doesn't take off until the beginning of this book. Evade and Capture can absolutely be enjoyed as a standalone.
Paytonpuppy
Outstanding Romantic Suspense!
A thrilling romantic suspense as Spencer Gordon risks everything to save the lives of Kathleen Drake and her son Connor. Spencer realizes that she needs further support to protect them and decides to kidnap Kathleen's brother Jameson. Jameson Drake is immensely wealthy and should be able to provide the funds and security to help protect his sister. Jameson has been under the protection of Callahan Security for years and they are known for keeping their most prominent clients safe. Although many believed that Kathleen had died sixteen years ago, Jameson continued to search for her…he felt deep in his heart that she was still alive. Can he and Spencer, with the help of the Callahan team, finally ensure that the threats to Kathleen are terminated? A wild ride that will keep you turning the pages to find out what happens next. I love a strong heroine that can match wits and bravery with the alpha male and Spencer is that heroine.
Linda J. Olinger
Love On The Run
I received an ARC of this book in exchange for a honest review. I am so glad I signed up for this ARC even though it's not my usual choice. The book was masterfully written with strong, believable characters that you cheered on to success!
Jameson Drake's sister (Jamie to his sister) disappeared when he was in college. The police surmised she committed suicide but he never believed that story. Instead he has spent the past sixteen years searching for her. First she's spotted in one of his hotels. Then a woman claims to know where she is and offers to take him to her. Despite his doubts he feels compelled to meet her and eventually agrees to accompany her.
The more he finds out about why his sister disappeared, the more dangerous the reason becomes.
I loved this book and highly recommend it! In fact, I am going to download the first three books of the Callahan Security Series by Lori Matthews! And, of course, there is a love story thrown in to sweeten the pot!
Judi Abbott
The Deal of a Lifetime
Lori Matthew's knows how to write a story to keep you guessing and invested. Evade and capture is such a story. This is the 4th book of the Callaghan Security series but can be read as a standalone. I haven't read the other books in the series but I will now! I do not want to give any spoilers so this review is hard to write. Drake has it all, except the sister he's been looking for for the past 16years. Spencer is FBI and hates her job. Spencer has a secret she needs to share with Drake so she kidnaps him. At this point the story takes off and doesn't slow down until the end. This is a great romantic suspense story.

Cindy H
A Thrill Ride!
Exciting! Omg, this book had me glued to the pages. Excitement and danger on this roller coaster ride! Drake was super powerful, his bodyguards amazing and Spencer was a devoted friend and protector of Kathleen and Connor. Another words perfect for each other if they can keep everyone alive to have a future free of the mob. Reading from this author's next book is a must for me!
Alyson L
This is an award winning formula!
What an outstanding book! Lori Matthew's Evade and Capture is filled with snappy dialogue, unexpected twists and turns, edge of your seat danger, breath stealing romance and fast-paced romantic suspense. Plan on a guaranteed happily-ever-after and you have an award winning formula. I highly recommend it.
DIVERTED
PJ Ausdenmore
I couldn't put it down…
A word of advice: do not begin this book unless you have plenty of reading time at your disposal. I started reading it in bed last night, continued until I fell asleep at 2:00 AM (still holding my Kindle), and dove right back in as soon as I awoke this morning. It's compelling, action-packed, edge-of-the-seat romantic suspense that grabbed my attention from the get-go and refused to be set aside. I loved it!
 Lori Matthews has become one of my favorite authors writing romantic suspense. Her stories are tightly crafted, with fully-developed characters who engage my emotions. She brings them to life on the pages and then places them in impeccably-detailed settings that put me in the heart of the action. I didn't just read about Carolina's, Nick's, and the Coast Guard team's journey through Panama and Ecuador, I felt like I was walking through the jungles with them, dodging gunfire, deactivating bombs, and balancing undeniable attraction with necessary caution, all while fighting for my life. It's an interactive experience Matthews brings with each book she writes. She fully immerses me in each of her stories, leaving me eager for more of the same each time I reach the final page.
 Diverted is the first book in what I hope will be a new series. I'm already invested in the entire Coast Guard Special Ops team!
Reading in Morgan Hill
Military thriller
In the first book of a new series by Lori Matthews, we're schooled on exactly what the Coast Guard does! They have an elite maritime counterterrorism unit and our hero, Nick Taggert, was one. Unfortunately he's been injured and is now 'sitting on the beach' in Panama with other wounded soldiers from various branches of the military, doing deskwork that is killing their souls.
 Carolina Alvarez, the doctor who did surgery on Nick in Yemen, and saved his life, is also who he blames for his lack of ability to get back into 'real' action. She has been contacted by a former employer to help a native tribe in Central America that is dying due to a genetically modified mosquito. She wants to say no, but when her former employer is critically injured, she finds she can't say no to helping.
 Drug lords, the possibility of saving an indigenous tribe from extinction, Coast Guard duties we didn't even know existed, Doctors without Borders, injured warriors from all branches of the military working together, pharmaceutical companies with no ethical compass, and corrupt politicians. This book has it all.
 I've been a fan of Ms. Matthews since her first books. Her writing style is very readable and you can tell she has done her homework on all facets of the information she writes about. I can't wait to read the next book in this series!!
Jenn H.
Another great book from Lori Matthews!
I'm always waiting for Lori's next book to come out but I was a little hesitant since this is a new series (I love the Callahan series!). But she nailed it with this one. This one might have the most suspense and twists of any one she's written yet and I couldn't put it down. I'm excited for the next one in the series to come out soon!
AngDia
Diverted
This is the first book of Lori's that I have read and let me tell you, it is suspenseful. You must keep reading because you cannot put it down. I would categorize this as more suspense than romance even though romance is present. Of course, we know who the bad guys are but how was the RECON team going to get around them to get to their goal and the why's of what was happening. Therein lies the reason why this is such a good story. I loved this story if you cannot tell already with all of my gushing. I also really liked that they are a little older (not 20 something) which makes how they see and handle things a little different. Three little things that I wanted more of: (1) why didn't Nick tell Carolina of his anger regarding his back, (2) I wanted more development of their romance, and (3) the ending was too abrupt, I needed more but I am sometimes greedy like that. Other than that, this is a fantastic suspense/thriller and I definitely want to see the rest of the RECON team get their own stories. Who knew Coast Guards were such badasses.

Michelle
Drug Lords, A Doctor and a RECON Military Team in a Desperate Battle
This was my first book by Lori Matthews and will definitely not be my last. This book is awesome!! It grabs you from the first and keeps you on a wild ride all the way to the end. Dr. Carolina Alvarez was formerly a researcher who broke away and began work with Doctors Without Borders. While home on a vacation she accidently runs into her former employer and research partner who begs her to take a life saving drug to a tribe that he and his father have always had a close relationship with deep in South America. The tribe has become sick and needs the vaccine in order to stay alive. Javier is literally almost killed right in front of her and this send Carolina on a dangerous mission to Panama to try to save the tribe. Meanwhile in Panama, Nick Taggert and his crew of Coast Guard RECON team members are working on healing from various injuries before they can go back in the field full time and are working on tracking down drug shipments before they make it to the US. (Who knew the Coast Guard did so much??) Nick winds up arresting Carolina when she arrives with the drug for smuggling and realizes that she is the doctor that "saved" him and is responsible for his injury that has put him in this position in the jungles on Panama. Soon they begin working together with the RECON team to try to get the drug to the tribe deep in the jungle. With drug dealers, war lords and government officials trying to kill them and stop the delivery of the drug at all costs it is a whirlwind dangerous adventure until the end.
Kristen Lewendon
I was swept up in the drama
I don't quite know what to call this book, because it's more than simply romantic suspense. It layers in elements of political intrigue and action/adventure to make a story that's as addictive as it is terrifying in its possibilities. I was swept up in the drama from the moment the book opened, and it carried me along until the very end. I was desperate to know what would happen next and I felt like I couldn't read it fast enough in order to find out. I liked Nick and Carolina and, really, the whole Team RECON. I'm already a fan and I can't wait to read more.
INCINERATED
Reading in Morgan Hill (amazon)
Ripped from the headlines!
A 'ripped from the headlines' novel this has all my favorite things! It's a thriller, second chance at romance, suspense, who-done-it, international intrigue…pretty much hits all the right buttons for me. It might fit right in with folks who dwell on conspiracy theories too!
Incinerated by Lori Matthews is the second book in the Coast Guard RECON series. Although, it can be read as a stand-alone, I suggest reading the first book in the series since the major players in this book are introduced in the first. There is also much series background you would be missing.
I love the dialogue, the mystery, and the twists and turns this book takes. A must read for fans of any of the above mentioned genres.
Denim*n*Diamonds (amazon)
Thrilling, thought provoking, suspenseful romance
 Incinerated by Lori Matthews is the second installment of the Coast Guard RECON Book Series. We are taken on the journey with Axe and Sloan as they navigate the Suez Canal when a cargo ship gets stuck. When things aren't what they seem, and innocent people start ending up dead, it is up to Axe and his RECON team to figure out who is behind it all before more people get hurt. Will Axe and Sloan be able to put aside their past hurt and be able to rekindle their love? Or will it be too late? Exciting read, all the way until the end!
Lauren (amazon)
Thriller in the Real World
This author has become one of my favorites in this genre, and this book is an excellent example of why. I was already a fan after the Callahan Security Series, but these books have taken that to the next level. And the Callahan brothers even make a cameo here. This ARC like most of those I have read was provided by the Hidden Gems ARC program.
This story takes place during the blockage of the Suez Canal in March 2021, Sloan Bishop, is a reporter who is on the ship to report on the first female pilot to navigate the canal. Once the cargo ship is stuck, even more seems to be going on so, Coast Guard sends Axel Cantor, who happens to be in the area. Axel was part of the USCG Team Recon, from the first book but has recently gone back to regular duty with the Coast Guard. He also happens to be Sloan's ex, who broke up with her because of her reporting on him and his prior missions.
As they start investigating the death of another journalist on the ship, they begin to see that there is more going on here. The USCG Team Recon are called in to help Axel and Sloan in this difficult and dangerous situation they find themselves in. The story is a lot of action and adventure while developing the relationship between Axel and Sloan and how they could possibly find a way back together. Really like both the real-life aspect of the story and involvement of Axel and the Team Recon.
Sahar's Honest Reviews (amazon)
Second Chance Romance with Suspense That Keeps You on the Edge of Your Seat
A ship gets stuck in the Suez Canal, and the first female Middle Eastern pilot is blamed for the disaster. Sloan knows that the pilot is innocent, and she knows that the truth is deadly. She witnessed her friend get murdered in front of her eyes. Why does the ship get stuck, and how many people will have to die for the sake of the truth?
Sloan wants to be like her father, a driven reporter, but to what end, and at what cost? Her tenacity had already cost her the love of her life. Can Sloan achieve a balance? Before she can answer the question, she must survive the flying bullets and the falling bodies. When Axel comes onboard to investigate the death of Sloan's journalist friend, the mission gets extremely dangerous. Treachery and lies will be the name of the game. Luckily, Axel's Coast Guard team are on hand to assist, but it will not be an easy mission. Danger will surround them, and it will come from every corner. As axel and Sloan face unbeatable odds, will they survive, and can they rekindle their love? They will have quite a few challenges to overcome. I enjoyed this story and would recommend it to those who like romantic suspense. I could not stop turning the pages.
obie2930 (amazon)
Thrilling and action-packed
This book about Axel and Sloan along with the Team RECON was quite the thriller and definitely packed with lots of action. The characters were extremely well written and the interchange between characters from this book as well as other books by this author made for an excellent read. The connection between Axel and Sloan began in the past. Meeting in the present day brought angst between them and I really liked how the author slowly brought the angst to a crescendo then to a final resolution. Sloan's character is a persistent, go-get-the-story reporter. She aspires to be like her father getting the latest scoops for the news no matter what the consequences are. Axel's character is an upstanding guy who is dealing with past tragedies and his feelings about those tragedies. The members on Team RECON just added that much more interest and action to this book and I really appreciate the twists and turns the author included in this book. It held my attention and was really hard to put down.
Coyotecactus (amazon)
Suspenseful, action- packed and throw in a little romance
A riveting book that is full of adventure, suspense and danger. Throw in a little romance which causes more adventure and you have a great book. The author did a great job with this one. It kept me on the edge throughout. Can't wait to read more.
CONFLICTED
PJ Ausdenmore
Another Page Turner
Talk about conflict; this book is steaming with it! Lori Matthews continues her string of intense, tightly-woven, suspense novels with another page turner that I devoured in one sitting.
First of all, I loved the setting. Matthews really captures the South Florida vibe, placing me squarely in the center of her lush, tropical section of town that teems with diverse neighborhoods and pulsing nightlife while barely hiding a drug-infested, life-or-death underbelly. The essence of cut-throat criminals and the agents determined to take them down led me on an edge-of-my-seat journey with my heart in my throat most of the way. And the twists. So many twists!
Then there are the human characters. Matthews really excels at creating complex, multi-layered characters who pull me in, engaging my emotions even when I fight against it. She makes them relatable, intriguing, and gives them nuances in shades of gray. In short, she makes them feel real. I connected with Elias and Andrea almost immediately, even though they were enemies at the start, both having good reason to mistrust the other. There's that conflict again. Matthews leads them through a complicated and difficult journey, both physically and emotionally. The suspense/action/danger of their joint mission takes the lead but their emotional evolution was not overlooked. Only with growth (on both of their parts) would a reconciliation be possible. Only with communication and deep introspection could soul-baring apologies be offered…and accepted.
This is the third book in Matthews' RECON series. All of the team members are present in this story though the teams' mission and Elias and Andrea's romance are both begun and concluded within the book. This is a series where we see all the team members in each book but each book really does stand on its own. Although I prefer to read books in order, I do think readers would be able to start anywhere and not feel confused or as if they were missing vital information. Having said that, I do recommend all three books currently published and am already eagerly anticipating more.
Kristen Lewendon (amazon)
I'm hooked
Let's be honest, I was already most of the way in love with the members of Team RECON before I even cracked the spine on this baby. So, it's probably no surprise that I was immediately drawn into this book. It pulls together so many frightening possibilities from recent headlines that I have to wonder if there isn't somewhere that this story is actually taking place. It also gives me that greatest of all catnips to my imagination: a second chance. It also won't come as a shock to anyone that I was cheering for Elias and Andy to air their differences and find their way back to one another. I'm hooked. I'm a Team RECON groupie now, and I can't wait to see what the author brings us next.
Darcy (bookbub)
This book has it all with edge of your seat, non stop action involving the Russians, Cubans, militia and Miami's street gangs. It is also a second chance romance filled with old hurts, betrayals and loss. You won't be disappointed as Andy and Elias are forced to work together and bring an old for to justice. Another amazing story with the fierce men of Team RECON and the women, who are their equal.
Sue (bookbub)
Wow…. can't believe I've only just found this series, it was absolutely brilliant.
Told from the POV of both characters Elias and Andy, Team Recon take over the investigation much to ATF's annoyance, and so these ex lover's need to work together to try and bring down the Street Aces.
Thrilling storyline, fantastic characters and absolutely loved the HEA.
I will certainly be looking out for the next book in the series!

Jinger (amazon)
Attention Grabbing
Conflicted by Lori Matthews is an attention grabbing, action packed book. Coast Guard RECON is a new series for me. I love romantic suspense and it has everything I look for in a great book. The characters are well developed. Elias and Andy are strong and have off the charts chemistry but the supporting characters are also phenomenal. Hopefully their stories are coming. The storyline is fast moving and jam packed with suspense. I'm going to go back and read the ones I missed and add Lori to my list of authors I follow.
Perrin (bookbub)
Can you say romantic suspense? Conflicted, the 3rd book in the Coast Guard RECON series, absolutely fits the bill.
Elias and Andy (Andrea) have a history, so when Andy has to call in reinforcements for a raid and Elias is one of them, it's quite interesting to say the least.
Can you say twists and turns? Gosh…so much to process in this fabulous book. I loved it!
I've read all of the books in this series and think it is easier to kind of follow the plot and everyone in the book, if you've read the first two. You don't have to, but it helps keep track of everyone!
If you're looking for a 'go to' for romantic suspense, well written and researched books, and an all around good story, you can't go wrong with this author.
SUBVERTED
PJ Ausdenmore
Immersive Romantic Suspense Thriller
Woke up at 2:00 AM this morning and couldn't fall back asleep so I decided to read a chapter or two of SUBVERTED, the newest Coast Guard RECON book by Lori Matthews that downloaded to my Kindle yesterday. At 5:00 AM, I was still wide awake and deeply immersed in the life or death intensity of this compelling story. Matthews has once again delivered intriguing characters, edge-of-my-seat suspense, scenarios I hope never happen but am well aware could, and complex, multi-layered storytelling that kept me up – literally – all night.
If you enjoy romantic suspense thrillers that grab your attention from the start and hold it securely until you turn that final page, you won't want to miss this book. It includes crossover characters from the first three books in the Coast Guard RECON series (which I also highly recommend) but also stands well on its own.
Klewendon (B& N)
I Am Both In Awe Of And Frightened
I am both in awe of and frightened by the twisted ways this author's mind works. It's more than a simple "what's the worst that could happen?" She takes the worst possible outcome and ups the ante by a factor of ten or more. The danger and intrigue come in a form that I think a lot of us are getting more familiar with every day with recent news reports. And this book made me stop and wonder about what's going on in our world more than once. On the relationship front, I love that this was a spin on a second chance: one night that never had the opportunity to go anywhere then but a partnership now that could make or break both Finn and Tory's careers. The more we learn about the amazing men that are a part of Bertrand's Team RECON, the more I want to know. I don't know quite what the author has up her sleeve for what's coming next, but I know I need to read it.
BookDragonGirl (Amazon)
Finn and Tory…they're perfect for each other!!
I loved Finn and Tory's story!!
Matthews really knows how to write romantic suspense in a way that grabs you right from the start. The plot keeps you turning the page all the way to the end too!
I love all the guys on this coast Guard team!! They all have their gifts that add to the team. I am really looking forward to Cain's story next!!
If you enjoy Romantic Suspense, a team of men on the Coast Guard and some great romance, then you will love this series!!
Kindle Customer (Amazon)SEMPER PARATIS
I am very glad to see the U.S. Coast Guard getting some "PROFS"!
I am a former Coastie Radioman. I have been out so long that my Rate has become Communication Technician.
In reading " SUBVERTED" I relived some intense times spent aboard ship in the North Atlantic during a storm.
I had to put up with the comments about being a " Shallow Water Sailor" and why would I be stationed overseas? The Coast Guards just helps fishing boats and pleasure craft in trouble on the coast or Great Lakes of the U.S.
Anyway I find the characters to be believable and the stories entertaining. I hope you continue to add to the series. I look forward the the next installment.

DMW RM2 (formerly USCG)

Just as Team Recon has had to put up with.
Keep up the good work with these guys
Darcy (BookBub)
Coast Guard Recon is an amazing series and Subverted is not to be missed. Government conspiracies, treason and the involvement of all the alphabet agencies add danger and suspense to this gripping story. Ex-CIA and current DHS, Tory has issues with her past that are now about to destroy her career and possibly end her life. Together with Finn and the rest of Recon and against all odds, they need to out maneuver some powerful people and stop the collapse of the US government. Edge of your seat thriller with fantastic characters that are willing to do whatever it takes. Loved it..
AngDia (Amazon)
Somehow and I don't know how Lori manages to make every book better than the last She is an artist at building suspense and drama that totally draws you in even from the first page and this latest offering is no exception
This is the story of Finn Walsh he is a member of Team RECON a section of the coast guard made up of damaged members but somehow their damage is what makes them strong In this case they are investigating a hijacking of a US ship where they discover a stash of bodies and equipment missing This brings Victory Stanhope now Homeland Security but ex Cia to the team Her and Finn have a past that is tied to her darkest times. Can they solve who is attacking the US and can they build a future You will have to read to see
Deb from Oz (BookBub)
Somehow and I don't know how Lori manages to make every book better than the last She is an artist at building suspense and drama that totally draws you in even from the first page and this latest offering is no exception
This is the story of Finn Walsh he is a member of Team RECON a section of the coast guard made up of damaged members but somehow their damage is what makes them strong In this case they are investigating a hijacking of a US ship where they discover a stash of bodies and equipment missing This brings Victory Stanhope now Homeland Security but ex Cia to the team Her and Finn have a past that is tied to her darkest times. Can they solve who is attacking the US and can they build a future You will have to read to see.
Kayla Tate PA (BookBub
So honestly, this book wasn't what I expected. Even after reading the synopsis, I was still surprised. It was a really great story that was darker and had more depth than I realized it would. I loved it! All of the characters were great and I loved the dynamic. It was a perfect balance of intrigue, romance, humor and darkness. I have not yet read the first 3 books, but you do not need to in order to full enjoy this one. You don't feel like you missed a thing. The 2 main characters Finn and Tory have dark pasts that they have struggled to deal with and are forced to face them during the events in the book. This changes their characters throughout the story. So though there were times I was irritated with Tory, you understood where she was coming from. It deals with real life stuff, politics, new and unsteady love and trauma.
Though in any story, you want to punch the bad guys in the face, this one really delivers a doozy that will set your blood on fire.
Can't beat a book that draws you in from the first few pages and makes you go through all the emotions at least once before you get to the end. I will definitely be reading the rest of the series. I need more of these characters and love mix of triller with a splash of romance.
Definitely would recommend to anyone. Because the romance is light enough that anyone could enjoy the book for what it is. The details the author provides are real and believable. Definitely more intrigue than mushy love. Very much along the lines of A.G Riddle's style, whom I love.